Hi there,
I'm Johnny Fuery, the founder of Merus. I don't get the opportunity to participate in authoring content much, but a recent negative review published on one of the "FInd and Read Reviews about Software" sites on the interwebs got my attention.
I thought I'd share it here, because I responded in a personal way. What do you think of my reply?
First, here's a screenshot of the review:
(By the by, we totally know who posted this -- it's not actually a customer, but a law firm that has been in pre-sales discussions for several months -- and called them directly after this turned up on our radar, despite the author being anonymous. Caring about folks means we're aware of the details. 😀)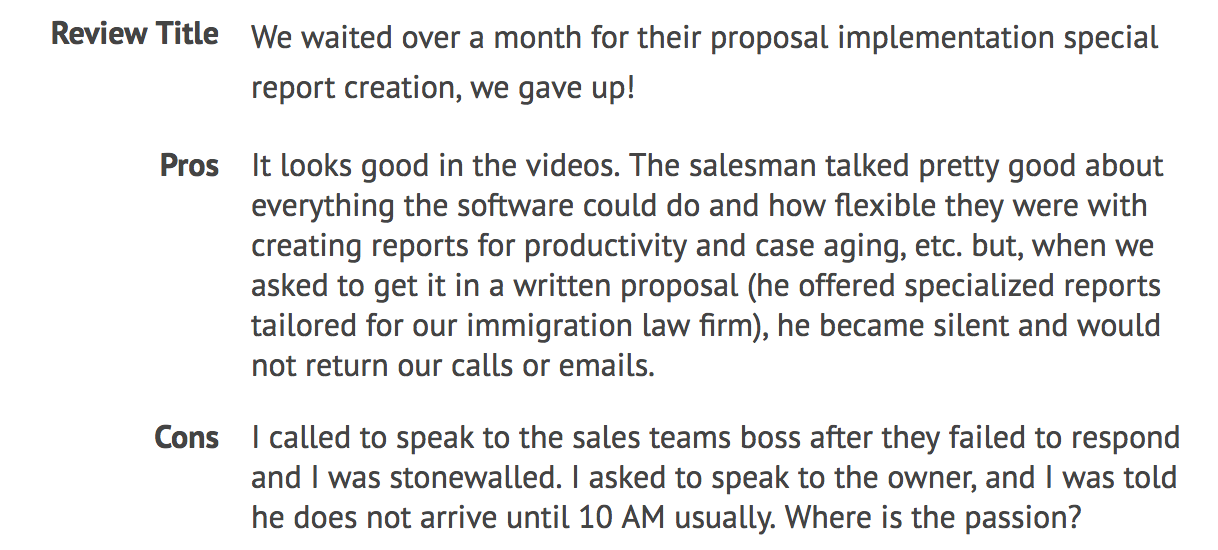 And my direct thoughts on the matter:
That sounds like a rough experience. First and foremost, as a customer who hasn't even engaged with us, it sounds like we could do a better job at (over) communicating.
That said, it sounds like you were asking for reports and other specific customizations around the internal workflow at your law firm. That's great; we can do that sort of thing and take a great deal of pride in offering flexibility on top of an organized (even rigidly so, until your custom workflow and related preferences are configured) solution out-of-box.
The problem, in general, with all customizations is that you're no longer buying a shrink-wrapped box off the proverbial store shelf. Rather than a box of Cheerios, you're asking for an acre of grain and then opening up a discussion about how exactly you want your oats prepared.
That's fine; we've done this for thousands of firms your size and larger. I suspect some of the disconnect in this pre-sales process was based on requests for examples of what you're looking for – given our Cheerios example again, are you looking for a loaf of oat-flour bread or an oatmeal cookie? Or worse, perhaps you're intending to describe a cookie but we create a sweet-smelling bar of specialty soap with rolled oats in it. We, as does any vendor that provides specific tailoring, require a lot of discussion before providing a price on such work. Mistakes can be extremely costly for everyone, and result in unhappiness all around.
One additional note about "customized reports": MerusCase is designed, for the most part, to avoid reporting altogether. If you have the data you need, when you need it, you don't need to ever run reports. In a similar vein, most of us no longer keep and carry a checkbook or a paper calendar – it's right there, whenever we need it, in a distilled format, on our phone, tablet, or other device. Some of this miscommunication may have simply been "You won't need that report, because it is two clicks away and available in real-time". As in, included, out-of-box, with no extra charges, and not requiring a proposal at all.
Finally, on your retort about the owner not having passion, we don't have an "owner" in a specific sense, because we're a corporation. Sometimes when folks say "owner", they mean "CEO" or "Founder".
I'm the founder, and I take your comments personally. My name is Johnny Fuery, and I am very proud of Merus and everyone that is part of the MerusCase family. I would both welcome and relish the opportunity to win your business and your praise. I am also very, very passionate. It is true that I sometimes get in at an hour approaching 10am. When one works upwards of 100 hours a week, they have earned that privilege. That 10am hour is because I was up until 2am the night before doing the work that just doesn't get to the top of the priority list during the day. And never mind that the email inbox is checked before 8am and the day is organized before both breakfast and my morning commute. Before noon today I parsed nearly 1000 emails, participated in 3 in-person meetings, checked on the status of the MerusCase infrastructure, and personally wrote this lengthy reply. I dare say you will be hard pressed to find someone more passionate about a great many things, not the least of which is building great software that helps folks like yourself get more accomplished in less time.
What do you think? Does my Cheerios analogy make sense? Should I ignore this type of criticism, hit it head-on like this, or something else altogether?