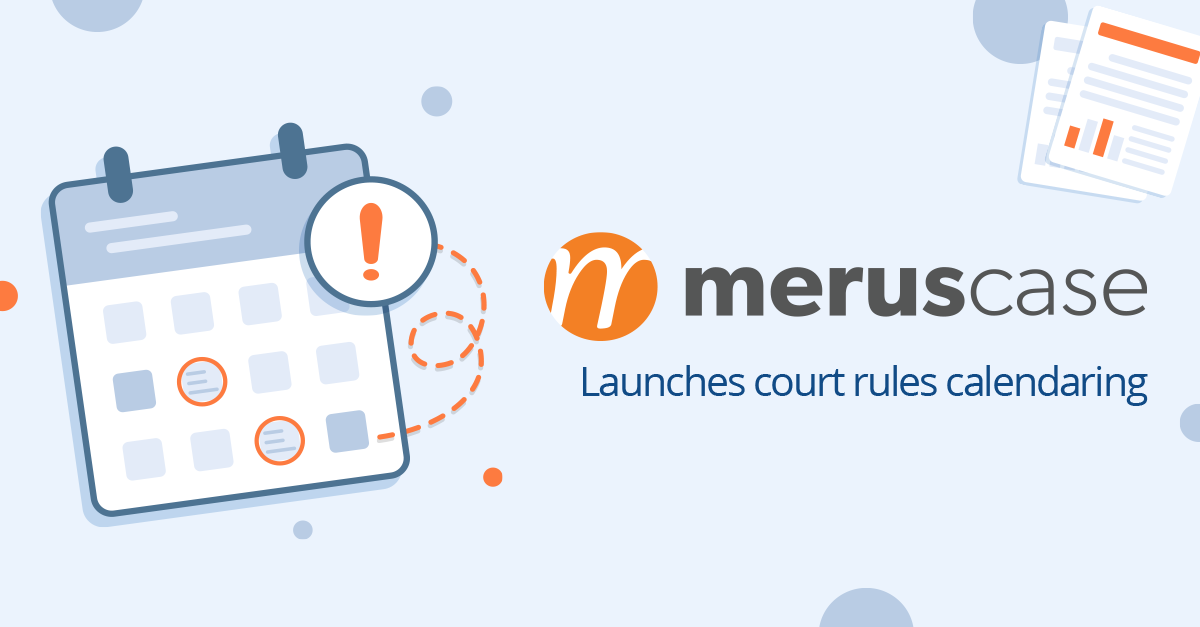 In a fast-paced and increasingly busy world, one simple tool has helped us all manage our lives — the humble calendar. The calendar as we know it today comes in many shapes, sizes, and can even serve different functions. We have calendars hung on our walls, sheets of paper printed on our desks, countless apps on our phones — keeping track of our dates and responsibilities helps us maintain control of our day-to-day lives.
A lawyer's calendar, however, is more than just a list of dates and responsibilities, it's a lifeline. When a law firm misses a calendar deadline from a court, there can be severe repercussions up to and including disbarment. Keeping track of these deadlines doesn't have to be all-consuming, that's why today MerusCase is pleased to announce our new court rules integration with CalendarRules.
Court rules change, your calendar should too. This integration enhances your legal calendaring process and allows your law firm to stay on track using a single source of truth for your deadlines and events based on specific jurisdiction and court-appointed parameters.
Never Miss a Court Rules Deadline with CalendarRules
CalendarRules was formed in 2007 and is the most comprehensive and reliable cloud-based rules platform in the industry which now handles over 1500 different rule sets in courts across all 50 states. If you're asking yourself — what exactly is a court rule, let us explain.
Court rules are events that are set up on your calendar with a trigger that automatically calculates a final due date for specific events based on deadlines set within the jurisdiction you are practicing in. Aside from standard court triggers, these rules are composed of factors such as related events, holidays, and service offsets.
In a typical civil litigation court, triggers are the activities that occur during the course of litigation. For example, paperwork is filed and/or served, or some activity is scheduled such as a hearing, deposition, or trial. Related events are usually any deadlines associated with the trigger created as related events. A Service Offset is how and when certain documents are served to either party which may impact specific dates or deadlines.
Using a court rules system helps firms to:
Double-check calculations: number/type of days, holidays, and service type ramifications
Ensures all necessary events are considered within a jurisdiction
Expedites data entry and recalculation
Promotes consistency
Minimizes costly scheduling mistakes
Increase your Efficiency and Productivity with Configurable Rule Sets
While lawyers may work in different ways, they still must follow these strict deadlines set by the court — even if they seem archaic such as faxing in documents. While the goal is to not clutter your calendar, an often-cited complaint of court rules systems, CalenderRules has set out to include the most complete, thorough, and up-to-date rules set possible.
With CalendarRules synced in MerusCase, you won't have to leave the application to keep track of your calendar and you can even manage what gets added to your case's calendar! Unlike other court rules integrations on the market, with MerusCase you can view and select court rules based on the type of rule it is. No need to search through hundreds of rules you don't need, just filter and choose based on your specifications. Once selected, you can choose to display these rules as tasks or events based on how your firm works best. Additionally, these rules can be set up to automatically appear on your case calendar..
Once these rules are implemented for a specific case, you can let CalendarRules handle the rest. Trigger dates are calculated for events and tasks, ensuring that you stay on track and giving you the confidence to serve your clients to the best of your ability and with full focus and attention.
Enable Court Rules in your MerusCase Account Today
If you've ever worried about missing a deadline, or struggle to keep track of the minutiae of court dates, it's time to give our court rules integration a try. We're thrilled to be working alongside our friends at CalendarRules, and we hope that this integration unlocks an extra layer of productivity at your law firm. Current MerusCase users can easily activate the integration by signing up here.
If you're not yet a MerusCase customer, you can schedule a demo to get started with the legal practice management software that's tailor-made for Personal Injury, Employment and Labor, Workers' Compensation, Immigration, and Criminal Defense law firms.