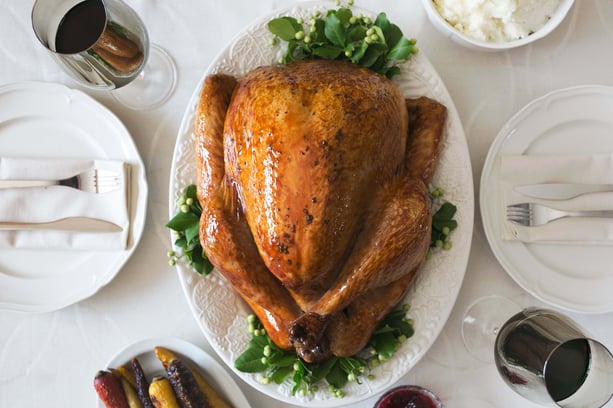 You're a legal professional. You know law things. You are a discerning, intelligent, and refined individual. Shouldn't your Thanksgiving feast reflect your acquired tastes and sensibilities? We at MerusCase think so. We have compiled a one-stop shop for your favorite Thanksgiving recipes, with the appropriate legal flair. Don't leave your work at the office (do you ever?). Bring it home with you to share with your friends, family, and loved ones.
Gavel-Smashed Potatoes
Ingredients:
10 red potatoes

salt

pepper
one stick of butter
diced garlic (about 5 cloves)
dried rosemary


Preparation and cook time: 45 minutes
Instructions:
Fill a stock pot half-way with water and bring to a boil. Add a dash of salt to your water. PRO-TIP: We find that in a pinch, you can salt the water with your own tears of exhaustion. Working in law is hard.
Add potatoes and boil for 15 minutes, or until they are impale-able via fork or letter-opener—whatever you happen to have laying around. Strain the potatoes and set them aside.
Preheat your oven to 450 degrees, and spread your potatoes onto a parchment-covered baking sheet. Take your gavel and smash each potato into judicial submission. We find that smashing while yelling out, "Order!", "Overruled!", and "Sustained!" helps ensure optimal smash-age.
Drizzle some melted butter over your smashed amicus briefs—I mean, on your potatoes. Sprinkle salt, pepper, diced garlic, and rosemary over your potatoes.
Stick your sheet into the oven and bake for 20 minutes, or until browned.
Serve on a wooden block.

Deposition Turkey
Ingredients:
turkey (12 lbs)
2 cups water
3 tbsp chicken bouillon powder
2 tps garlic powder
2 tps onion powder
1 tsp poultry seasoning
½ tsp chopped parsley
1 tsp paprika


Preparation and cook time: 4.5 hours
Instructions:
Have your outdoor grill ready: get your court reporter, set up your cameras, your most uncomfortable chair, your brightest, most blinding light. Bring the grill to medium heat and lightly oil grate. Rinse your turkey and pat it dry, gently. You don't mistreat the turkey on camera, especially if it has its attorney present. Bad idea.
Place your turkey breast-side down on the grill. As you sear it on both sides, ask your questions, "Have you ever been arrested?", "Have you ever testified in court?", "Do you have a history of drug or alcohol abuse?" Keep going until the skin is browned.
In a large roasting pan, mix together the water, bouillon powder, garlic powder, onion powder, poultry seasoning, parsley, and paprika. Give your turkey a moment to breathe. Offer a glass of water.
Transfer your turkey breast-side down into the roasting pan, and keep asking your questions. Scoop the mixture over your turkey, submerging it in questions, accusations, and seasoning. Then, tightly seal it with foil, and throw it back on the grill.
Keep grilling that turkey for the next 3-4 hours, until its internal temperature is 180 degrees F. It is time to remove it from the heat.
Let stand 15 minutes before carving that bird up. It's done.
Sequestered Stuffing
Ingredients:
loaf of (sliced) bread (1 lb)
¾ cup butter or margarine
1 onion, chopped
4 celery stalks, chopped
1 tbsp rosemary
1 tbsp sage
salt and pepper (to taste)
1 cup chicken (or vegetable) stock
Preparation and cook time: 2 hours
Instructions:
Lay your bread slices out to air-dry for a couple of hours, then cut into cubes.
Melt the butter in a Dutch Oven over medium heat. Cook the onion and celery in the melted butter until floppy. Throw in your herbs, salt, and pepper.
Stir in the bread cubes into the mixture until they are evenly coated.
Add the broth. Mix well.
Chill the mixture if you're going to put it in the turkey, or bake it in a casserole dish at 350 degrees F for 30-40 minutes.
Once done, sequester the stuffing to another room until it cools. Then, lock the door behind you, and enjoy your stuffing in peace and quiet. PRO TIP: If you are unsure how long it takes for your stuffing to cool before you can enjoy it, just leave the stuffing in another room until one of your relatives asks you to help them with a potential case. Then politely excuse yourself to "check" on the stuffing, lock the door, and enjoy your peace and quiet.
Dismissal with Prejudice Cranberry Sauce
Ingredients:
Bag of frozen cranberries (12 oz)
1 cup of orange juice
1 cup sugar
Optional: Mint Leaf


Preparation and cook time: 40 minutes
Instructions:
In a medium saucepan over low heat, dissolve the sugar into the orange juice.
Throw your cranberries into the orange juice-sugar mixture and, stirring occasionally, cook until the cranberries start to pop—about 10 minutes.
Remove your goop from the stove into a serving bowl, letting it thicken as it cools. Once cooled, place your optional mint leaf on top for added color and presentation.
Dump everything into the trash. Cranberry sauce is disgusting. Throw the bowl in the garbage too. It has been tainted.
Pro Se Pumpkin pie
Ingredients:
(crust)
12 full-size graham crackers (about 6 1/2 oz)
6 tbs butter (3 oz)
Optional:


¼ cup water

½ tsp cinnamon

¼ cup sugar
(filling)
1 can of pumpkin puree (15 oz)
1 can of sweetened condensed milk (14 oz)
2 large eggs
1 tsp cinnamon
½ tsp all spice
½ tsp ground nutmeg
½ tsp salt
Preparation and cook time: 1 hour 45 minutes
Instructions:
Are you sure you want to suspend your ability to have a professional baker bake this for you? Are you sure you want to make this pie yourself? Are you aware of what you are doing? You still want to do this? Ok. Proceed.
Break up your graham crackers and put them in a Ziploc bag, along with the optional sugar and/or cinnamon. Pulverize the crackers with your gavel until you get fine crumbs.
Transfer your crumbs into a bowl. Melt the butter and then pour it over your crumbs. Stir everything together until they all clump together. If your crumbs don't clump, add water a tsp at a time until you get the desired consistency.
Heat your oven to 375 degrees F. Transfer the crumbs into a 9-inch pie pan and press them evenly into the bottom and sides.
Pre-bake the pie crust for 8-10 minutes. Allow to cool before adding the filling.
Preheat your oven to 425 degrees F.
Whisk the pumpkin, sweetened condensed milk, eggs, spices, and salt in a medium-sized bowl until smooth. Pour into your cooled crust and bake for 15 minutes.
Reduce the oven temperature to 350 degrees F and continue baking an additional 35-40 minutes, or until a knife inserted an inch from the crust comes out clean. Remove the pie from the oven and allow to cool.
Present your case to the jury. Good luck.
If you do end up bringing home your work during the holidays, check out how MerusCase can make your work mobile and securely accessible from anywhere. Click below for a demo:

Credit and links for the actual recipes can be found below:
Turkey: http://allrecipes.com/recipe/13807/grilled-whole-turkey/
Smashed potatoes: https://domesticsuperhero.com/best-ever-salty-herbed-smashed-red-potatoes/
Cranberry sauce: http://allrecipes.com/recipe/9111/cranberry-sauce/
Stuffing: http://allrecipes.com/recipe/13693/bread-and-celery-stuffing/
Pumpkin pie (crust): http://www.thekitchn.com/how-to-make-a-graham-cracker-crust-cooking-lessons-from-the-kitchn-36895
Pumpkin pie (filling): http://allrecipes.com/recipe/23439/perfect-pumpkin-pie/