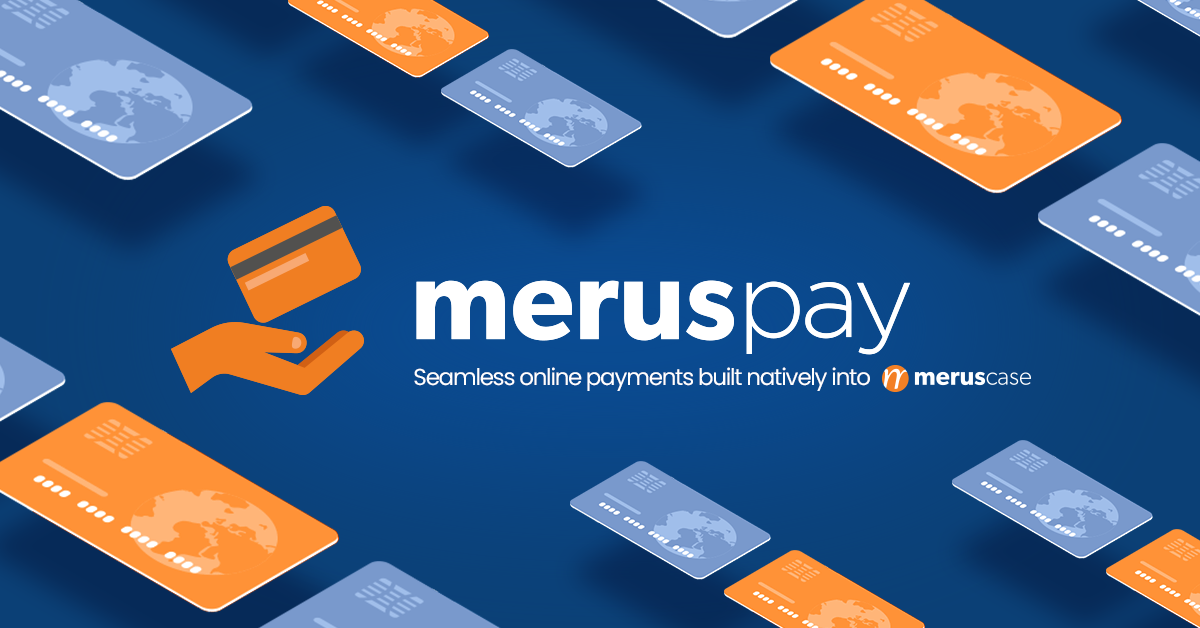 Embrace a new and easy way to accept online payments! Today, MerusCase is excited to announce the launch of MerusPay — our seamless in-house payments experience that allows your firm to get paid quickly and compliantly without ever leaving MerusCase.
Activate MerusPay in your account for free today to enable a secure payment experience that gets you paid up to 70% faster and provides significantly better collection rates than traditional payment methods. How so?
MerusPay was designed so legal professionals could quickly and safely accept payments without jumping through any hoops. After a 10 minute application, you'll unlock:
A seamless payment experience that allows clients to pay via credit card, debit card, ACH, or eCheck from anywhere, and at anytime

Transparent pricing with zero hidden fees and no monthly memberships
100% compliance with IOLTA, the ABA, and all 50 state bar association guidelines for accepting payments online
In-depth tracking and reporting on the full lifecycle of every payment
Fully native payments solution, eliminating the need for third-party processors
For contingency-based firms, MerusPay is perfect for tracking and collecting on case-related expenses or time billed on cases that get dropped. MerusPay can also help open doors to new and diversified case types for your firm, especially those with otherwise complex and time-consuming billing processes.
"I like being able to bill, take credit/debit card payments, and tell clients their balance instantly. There are simple reports and a great dashboard to see how much is outstanding, to be billed, and remaining in my trust account. It has cut down on the time it takes for billing and made my office more efficient."
Activating MerusPay takes only ten minutes of your time, and within 4 business days you can be approved to begin accepting payments. There are no contracts or upfront costs related to MerusPay — and unlike other processors who charge hidden or sliding-scale transaction fees, MerusPay charges a flat 3% for credit cards, and 1.3% for eChecks.
To celebrate the launch of payments at MerusCase, we're offering $150 cashback* for a limited time when you activate MerusPay your account. If you're a current customer of MerusCase, you can access the application here. If you want to see how MerusCase can work for you, sign up for a customized demo.
*A $150 cashback bonus will be transferred to your connected operating account after you accumulate $150 in transaction fees for payments received using MerusPay. Must be domiciled within the continental U.S.A., as well as Hawaii to be eligible for MerusPay; US territories are currently ineligible.