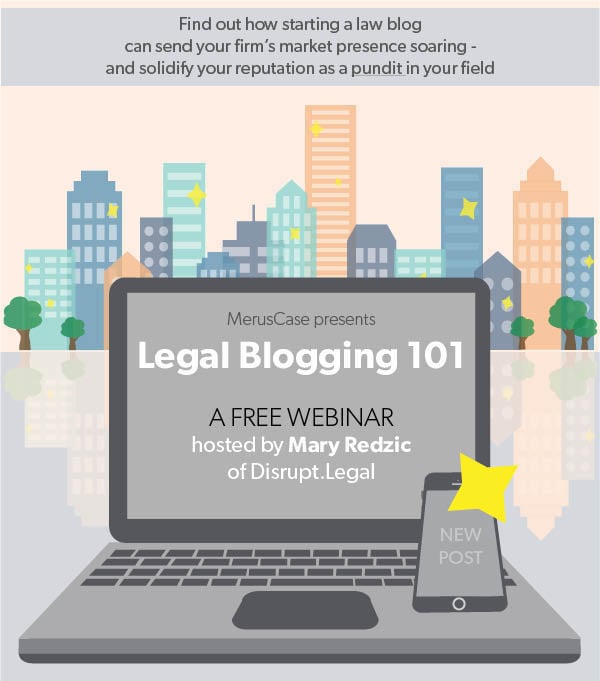 When it comes to taking advantage of legal tools and technology, Disrupt.Legal's Mary Redzic is not only experienced--she's a guru. From her thorough and holistic reviews of LPM software, to her enthusiasm for experimenting with new products and platforms, to her devoted followers across practice areas, Mary's portfolio is proof that she has taken over the intersection of legal marketing and legal tech. Now, she wants to share with you her biggest weapon: blogging.

Although fewer than 30% of lawyers contribute to law blogs, blogging has been proven valuable to big firms and solos alike. According to the ABA, industry standards compel most big firms to maintain blogs, while solo practioners and small firms report the highest rates of success as a result of blogging. Holistically, the benefits of legal blogging are undeniable--and our webinar with Mary will provide a perfect venue for you to get started.
1. You'll learn how to use blogging to expand your client pool.
Creating relevant and industry-tailored web content is the ultimate way to drive traffic to your website, optimize your visibility in search engines, and build brand recognition for your firm. (If you're still not convinced, here are 3 more reasons you need a blog to get more clients.) Our webinar will elucidate what it means to be "relevant" and "industry-tailored", and provide you with strategies for maximizing market growth.
2. You'll be able to skip the learning curve of blog set-up and launch straight into what works best.
As with any other marketing platform, there are a number of best-use rules and guidlines associated with legal blogging. Learning to maneuver through them takes time, patience, and willingness to endure a trial-and-error process. Save yourself the hassle and learn from Mary's mistakes (and her triumphs) as she walks you through her own path to blogging success.
3. What you don't do, a competitor will.
Ultimately, this is a ruthless profession where everyone is looking to get ahead. Legal blogging is already an expectation at most big firms, and now is the time for soloists and small law practioners to jump on the wagon. Whether you're focused on competing against associates for promotions and assignments, or against outside firms for cases and clients, you should be using your law blog to frame yourself as an expert and authority in your field; as your following grows, so will your influence.