We know firsthand that transitioning from an office environment to working from home has been challenging. During these past few weeks of adjusting, MerusCase has received feedback from you, our valued customers, on how we can alleviate the transition. Our teams are proud to release our first (of several) planned product enhancements, including 6 new reports and an improved Reporting feature to help monitor your firm's productivity.
New Reports
The following new reports are available based on permission levels.

1. Most Recent Log-in Date
This report is an enhancement to our current Access History (per User) Report, which allows the administrator to show the most recent log-in day by a given user.
2. Activities by User
This report shows user activity based on a specified date range.
3.Aggregate Total Activities Firm-wide
This report shows all activities across the firm based on the selected timeframe.
4. Tasks Completed
This report shows all completed tasks that can be filtered by user and date range.
5. Tasks Incomplete & Overdue
This report shows all incomplete or overdue tasks. This can be user and date range specific.
6. Global Damages Report
This report will show all liens on both a case and firm level.
Additionally, we've enhanced our Reports feature to make data insights more intuitive with the following:
Reports tab
We've added Reports to the Dashboard navigation bar so you can directly access them.

Click on Overview for access to the full list of reports.
Favorites
Easily add or remove reports from your favorites list. Click on the star symbol next to any report to mark specific reports as Favorites for quicker access.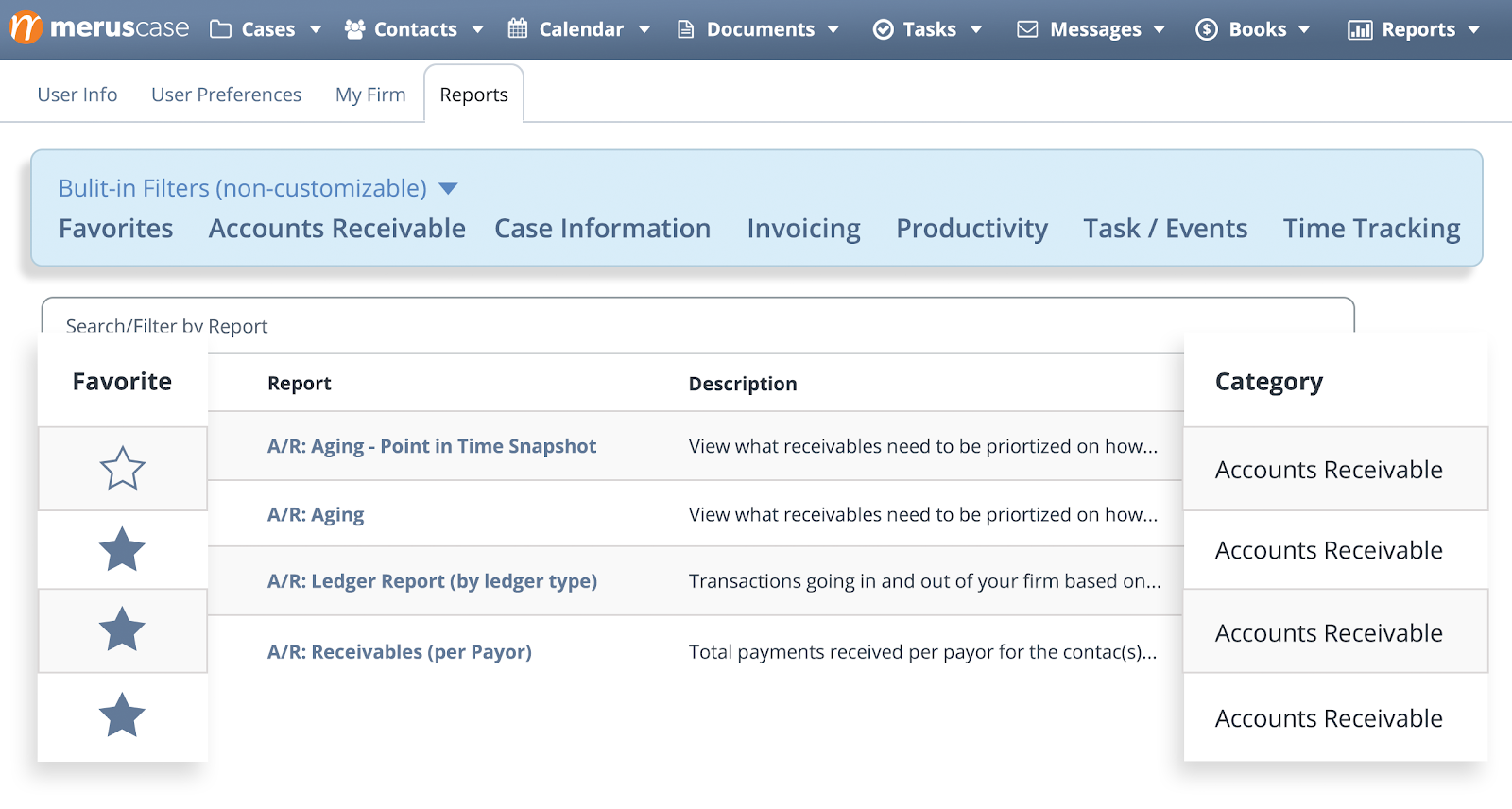 When you want to go directly to these set of reports, you can do so via the new dropdown picklist in the Dashboard navigation bar or sort on the Favorites column.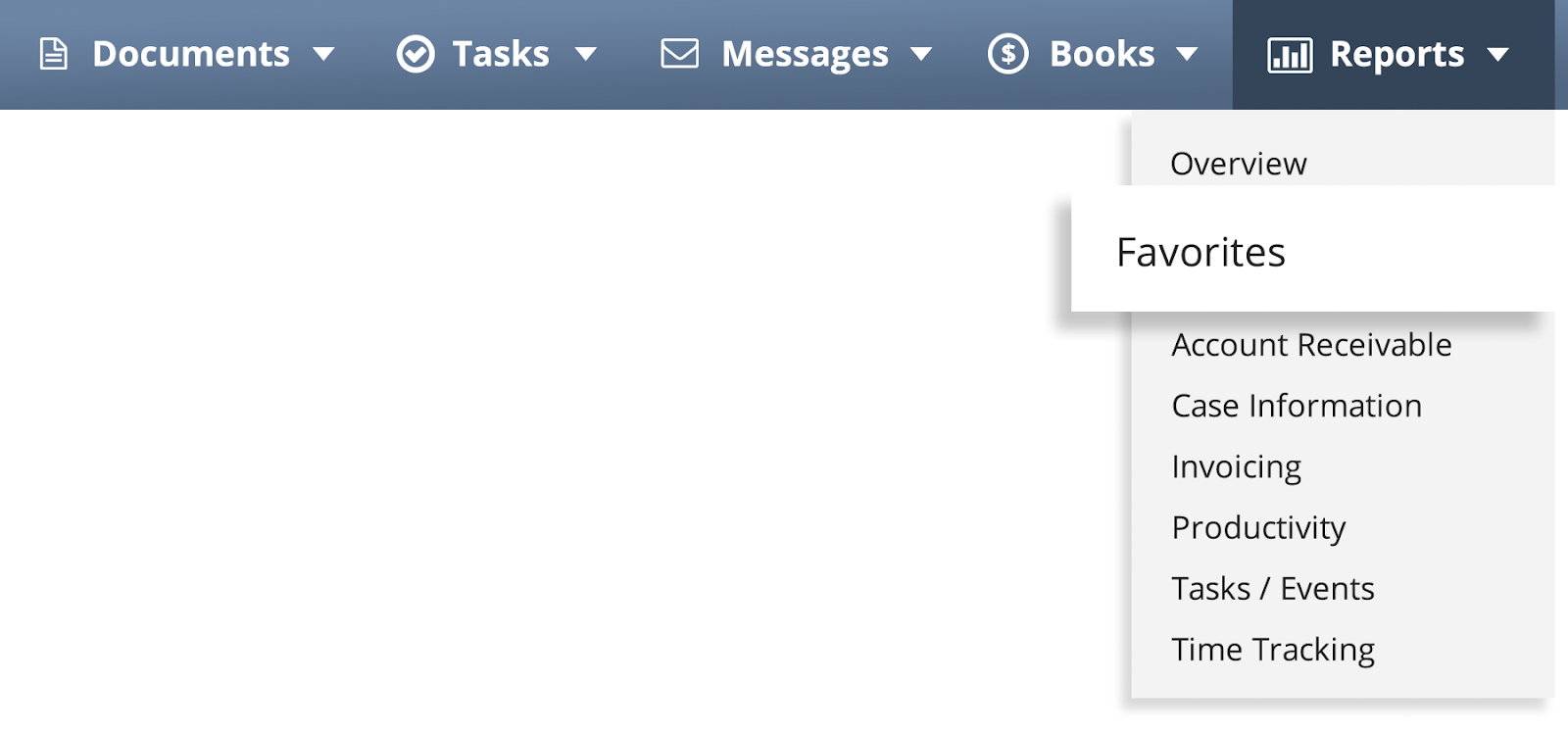 New Report Categories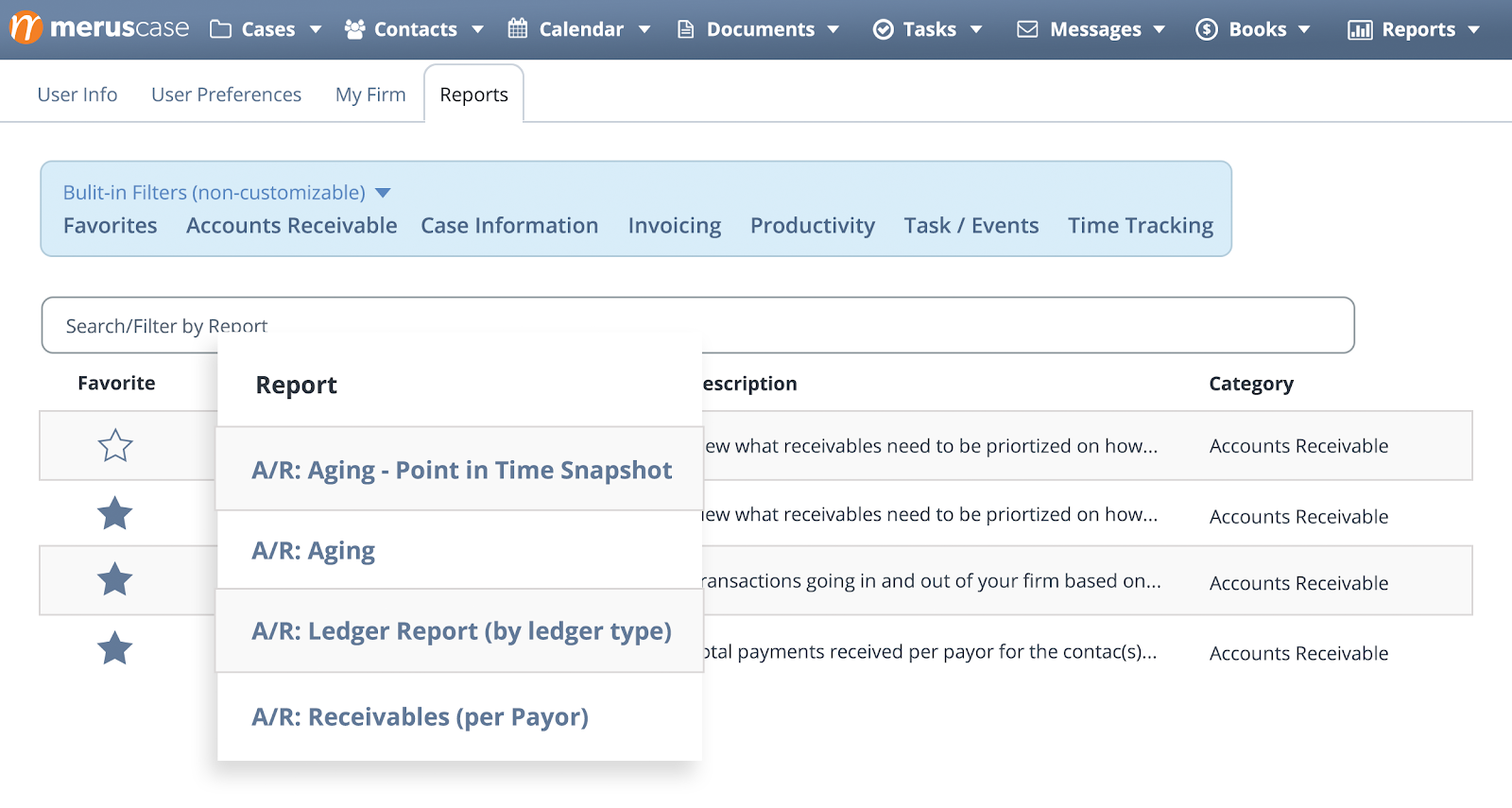 In addition to adding a Favorite category, we've introduced report categories to help streamline your work and increase productivity:
Accounts Receivable (A/R)
Time Tracking / Invoicing
Case Information
Productivity
Tasks / Events
Favorites
These exciting improvements to the Reports feature in MerusCase will help streamline your work and help you stay productive. We hope that MerusCase is helping you work remotely as you stay safe and healthy at home!