MerusCase takes pride in helping law firms of all sizes with our cloud-based legal practice management. Fully-integrated, HIPAA-compliant, and easy-to-use, we are the hub for all your cases.
Document management is the cornerstone of our platform, so we're excited to announce a new integration partnership with DocuSign!
Now you can send out documents for electronic signature and monitor their status, right from MerusCase.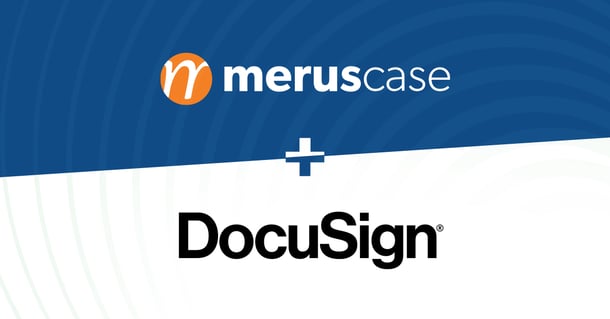 Share Documents Securely and Save Time
We chose DocuSign as our in-app e-signature provider because they're experts at providing secure solutions for the legal industry.
There are a variety of templates and on-demand forms available through our integration with DocuSign. We're expanding possibilities for MerusCase customers when it comes to documents for litigation, transactions, and internal operations.
e-Signature Lowers Costs for Your Law Firm
Our integration with DocuSign saves you administrative costs previously spent preparing documents for the mail, while minimizing turnaround time.
As COVID-19 indefinitely restricts in-person interactions with your clients, these benefits are even more valuable.
Digital Signature Gives Staff and Clients a Convenient Experience
MerusCase and DocuSign empower you to send documents out for signature via email. Throughout the digital signature process, MerusCase keeps your firm informed with notifications and status updates. You'll be able to see exactly when a client has viewed the documents and when they submit completed signatures with a timestamp. Once your client signs the document, it will instantly be returned to your firm.
This gives clients a more streamlined experience for providing signatures, while your firm gains complete visibility into the status of signatures. If you want to manage signatures on-the-go, the DocuSign mobile app syncs with MerusCase so you can stay connected.
The Signing Process Is More Secure With e-Signature
DocuSign adds structure and security to the signature process. All signed documents include a court-admissible Certificate of Completion.
This includes information on party names, email addresses, public IP addresses, and a time-stamped audit trail that records all important document activity. These features give your firm more accountability and peace of mind.
Connect Your DocuSign Account to MerusCase Now
We hope you're as excited about this news as we are! You can start using e-signatures right now by going to the "Documents" tab on your MerusCase navigation bar. Or schedule a demo if you're considering a practice management platform with robust document management and e-signature! With e-signature in your toolbox, your firm will achieve new levels of productivity.