Happy New Year from everyone here at MerusCase! We're all looking forward to a fantastic 2021 with our customers, and we hope you're just as ready as we are to tackle the challenges of these next 12 months.
Through massive fires, global pandemics, and social injustices, we've all lived through a ton. Looking back on 2020, we will certainly want to forget many things — but we won't soon forget the trust that you, our customers, have put in us to deliver software that makes your day-to-day lives easier, and your practices stronger. Thank you for choosing MerusCase and sticking with us through a trying year. Before we start announcing all the new initiatives that will be taking place, we would like to take a moment to reflect on the accomplishments of the past year.
Here's to a bright 2021,
The MerusCase Team
Enhancing work from home life for our customers
The transition to remote work was jarring for everyone, yes even for our team. Amidst the myriad of challenges, we knew that we had the power to make our customers' lives ever-so-easier to manage by releasing a few new reporting tools to better manage remote teams. From task management insights to updated report categories, these changes were quickly embraced, and we're happy to have played a small part in helping our customers adjust to the new normal of remote work.
Bringing you e-signature
Our largest lift of 2020, besides scrambling to work from home overnight, was our integration with DocuSign. Providing e-signature capabilities to our customers was incredibly important before social distancing even became a term, and now it's downright necessary.
DocuSign provides the highest level of security for digital signatures and has been trusted in the legal industry for years. We couldn't have been more pleased to offer this feature to our customers, and we know that many of you have been enjoying all their benefits.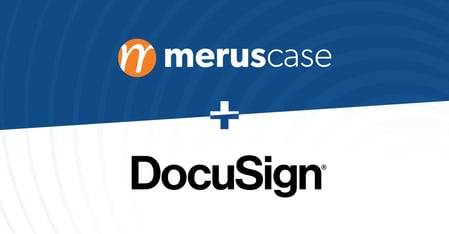 Updating document management and increasing efficiency
In an effort to continually improve the functionality of MerusCase, and adapt to the evolving needs of our customers, we made some changes to how documents are managed. By adding more input fields for information such as "date of document" and "date received" — we believe that firms will become even more efficient. Additionally, we released a few more features over the summer to increase efficiency across your firm.

We look towards the future
Just last week, a rebrand of our parent company was announced. MerusCase is now part of Paradigm, formerly ASG LegalTech. A new year means shifting possibilities, and we couldn't be more excited to be a part of the Paradigm team. If you want to stay in the loop on what Paradigm is up to, you can follow their activity on LinkedIn.
2021 is full of possibilities, and we've got some great product updates coming your way over the next few months that are sure to make your firm even more successful this year. Stay tuned, by following us on Twitter, Facebook and LinkedIn — you won't want to miss these announcements.