Thursday, September 21, 2017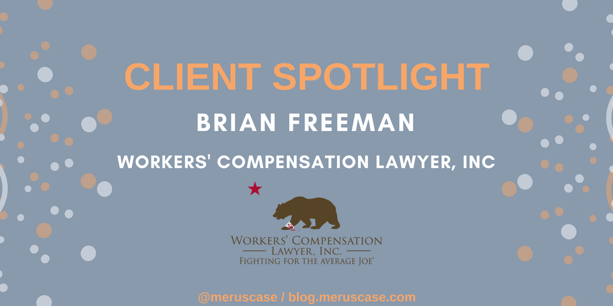 Brian Freeman knows what it's like to scale up his practice - that's what he's been doing for the past 4 years using MerusCase. MerusCase has helped Brian simplify his existing procedures, manage his employees, and greatly increase his caseload, year after year.
This MerusCase Client Spotlight will focus on Brian's firm, Workers' Compensation Lawyer, Inc, and how Brian has used MerusCase to elevate his practice.
I sat down with Brian for a conversation about his success with MerusCase.
Getting Started
Brian started his own Workers' Compensation practice in 2013, dedicated to fighting for the 'Average Joe'. He had used a few different practice management solutions before MerusCase, but found those options lacking.
Brian was first interested in MerusCase for the JETfiling integration with the California courts, and soon noticed the other features that could greatly benefit his practice.
Growing the Firm
Brian's firm has seen substantial growth in recent years, so we discussed the techniques he has used to foster that development.
Q: You mentioned that you've had a lot of case growth. How much would you say your case load has grown since you started using MerusCase?
A: Every year it has more than doubled since I've been using MerusCase.
Another thing is that I've hired more employees, and they all work from home. I give them their own laptops and their own MerusCase accounts. I'm able to see their productivity - I love the dashboard because I can see who is getting things done. I also like the itemized list of firm activities so I can make sure that no one has taken a 2-hour nap! This all really helped me as an owner and manager to know what my staff is doing.
Firm Management and Productivity
Brian and I discussed the ways that his firm has evolved since he started using MerusCase.
Q: Is there a part of your practice where the workflow itself has changed?
A: Yes, due to MerusCase and how fast the firm has grown, I had to evolve my intake process with the demand. When I first started, I used to meet with new clients, explain the paperwork - the physical paper, have them sit there and sign the paperwork, and then scan it into the system. My average intake was about 1 or 2 hours. I knew that wasn't sustainable, so I switched to an electronic sign-up system. That reduced the intake time down to about 15 minutes, and I could drop the electronically-signed documents into MerusCase and do a quick filing.
One workflow thing that is huge: we get tons of mail in workers' comp, and I hired an employee specifically for that reason. I was sick of scanning and processing the mail. Now, she uploads the mail for the day as a Batch Scan into MerusCase. That's super convenient - not only is all that mail not being stored in a giant storage room, but it's so easy to access now. Another employee reviews everything that comes in and sends me only what I need to see. It's really helped my paperless goals. MerusCase made it really easy to get there.
Making the Upgrade
Brian has always been very vocal about his support of MerusCase. Many of Brian's associates have taken his recommendation and are now happy MerusCase clients. I asked Brian about the big incentives to start using MerusCase.
Q: What is your "pitch" to an attorney considering MerusCase? Is there anything in particular that highlights why they should make the switch?
A: I would tell them to make the switch because it will make life so much easier, and your business so much more cost-effective. There is a lot of waste in these "paper-full" offices. You're hiring clerks to paper-file things, paying to store the files in a physical space. Lugging a big physical file through court is a nightmare, especially going up multiple flights of stairs. All I carry is a 12-inch MacBook - it weighs about one pound. That's it. It's so much better and cheaper than doing things the 'old-fashioned way'.
Final Thoughts
Q: Thanks for your time, Brian. Anything else you'd like to say?
A: Yes, one other main reason why someone should switch to a practice management software like MerusCase: having everything centralized is very important for organization. You don't want to have various systems tied together; it's too much of a technical headache. You want everything in one place. So I love that - all of our contacts in one place, tasks in one place. It does everything that you need to do, all under one hood.
(Wow, Brian could easily write business slogans as a side job.)
---
Thanks to Brian Freeman of Workers' Compensation Lawyer, Inc for his help with this post.
Interested in having your firm in a Client Spotlight?

If this post was interesting to you, be sure to subscribe to the MerusCase blog and follow us on Twitter, Facebook, and LinkedIn.
Tuesday, September 12, 2017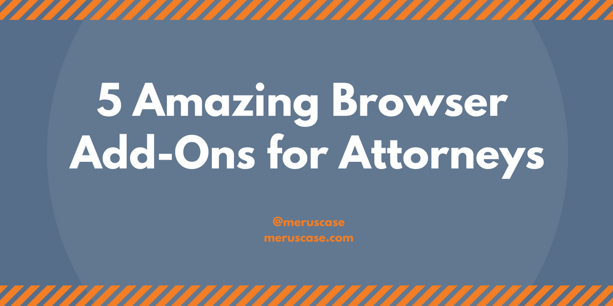 Browser extensions are little tools you can use to super-speed your web browsing. Think of them like 'apps' for your web browser. Each browser has its own 'app store', and we'll be focusing on extensions for Chrome (the browser we recommend using for MerusCase!)
In this post, we'll focus on Free Productivity Tools to supercharge your workflow. This isn't just for attorneys - anyone working in a law firm will benefit from these tools!
1. Grammarly
Grammarly is the best spell-check you'll ever use. The Grammarly website boasts "Grammarly leaves outdated spelling and grammar checkers in the dust" - and I completely agree. It's easy, seamless, and free (There is a paid 'premium version', but I get by perfectly fine with the free option.)
It's contextual, so it considers your writing style, experience level, and sentence structure, then suggests appropriate corrections.
Grammarly works great in browser-based applications as well. I use it to make sure my emails, notes, and phone call logs are correctly-spelled in MerusCase. It's a must-have for those of us who can't spell to save our lives.
Download from the Grammarly website, or directly from the Chrome App Store.
2. Noisli
Need to generate some peace and quiet in a hurry? Noisli is here to help!
Noisli allows you to create a personalized mix of relaxing sounds such as summer rain, a windy day, or a babbling brook. It's an effortless way to create some productivity-boosting background noise when you need to avoid distractions in the office.
I'd highly recommend Noisli if you have a noisier or more open office, or just need some help getting 'into the zone'. (You can also share your mixes with others. Here's what I listen to when I need to focus!)
Listen at Noisli.com, or get the extension from the Chrome App Store.
3. Block Site
As you might expect, Block Site allows you to specify certain websites to block in your browser. It's very straightforward: Enter a site you wish to block, and optionally enter a site to redirect you, should you attempt to access the site anyway.
If you want to get more detailed, you can block sites during certain times or certain days of the week.
It's a great tool for anyone who habitually checks social media or the news- just block Facebook/Instagram/Your-site-of-choice and redirect it to MerusCase.com.
Get the extension from the Chrome App Store.
4. StayFocusd
StayFocusd is like Block Site, with some tweaks and customization options. You can set a 'Max Time Allowed Per Day', which means you'll be able to use your block sites for, say, 30 minutes each day. Once you hit 30 minutes between all your blocked sites, you're locked out. It's a great tool for allowing yourself a restricted amount of 'slack off' time each day.
If you need something a bit more hardcore, StayFocusd offers a 'Nuclear Option'. Once you turn that on, you can't disable it by any means (other than removing the extension) until the set time has elapsed.
Get the extension from the Chrome App Store.
5. Strict Workflow
Ever heard of the Pomodoro Technique? Strict Workflow is a tool that allows you to easily implement a Pomodoro-style workflow into your daily life.
To give a basic summary, the Pomodoro Technique is a productivity strategy in which you spend 25 minutes working, 5 minutes on break, and repeat. After 4 cycles, you take a longer break. In many ways, it's like interval training for your brain.
Strict Workflow provides an automatic timer that blocks distracting sites during your 25-minute 'Work' section. You can also customize the timer length and blocked sites.
Get the extension from the Chrome App Store.
---
Looking for more productivity tools, tips, and tricks?
Check out our other articles on law firm productivity!