Many law firms generate enormous amounts of paperwork that's become difficult to access with COVID-related state-wide lockdowns and self-quarantining. Law firms that already had digital processes in place now have a distinct advantage over those with redundant paper processes.
With these issues in mind, let's look at why now is the time to become a paperless law firm and some advice on making the transition to digital.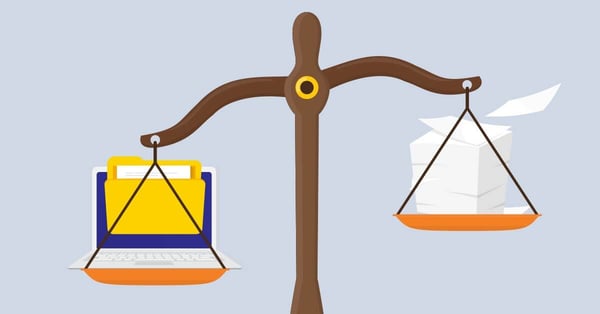 Now Is the Time to Become a Digital Law Firm
There have always been significant advantages of a paperless office: more money, more time, more accessibility, more transparency, better security, and sustainability — to name a few. But many law firms have been slow to adopt.
The Coronavirus pandemic is dramatically changing the way businesses operate and perceive remote work. Becoming a paperless law firm could be a necessity.
With employees working from home and clients unwilling to come to the office, law firms should consider digital alternatives to their paper workflows. That could mean managing clients with digital signatures, automated email communication, and electronic invoicing to start. With all documents scanned and searchable within a case management solution, firms will have the ability to respond immediately to queries: whether it's a client calling for information or a crucial discussion with the opposing counsel.
Digital law firms can more efficiently utilize their resources and adapt to the environment they operate in more effectively. Even if things return to the way they were after the Coronavirus pandemic, law firms that make the transition to digital would operate more smoothly.
3 Tips for Transitioning From Paper to Digital
It may seem daunting to drastically reduce the use of paper at your firm, but the shift to digital processes is well worth the effort. Here are some quick tips for making the transition easier.
1.
Stop Killing Trees and Your Bottom Line
While paperless may mean no paper at all in an ideal world, it's not always the reality. After the Coronavirus pandemic, clients may continue to bring paper documents to the office. When they do, you could scan these documents rather than file them in an overstuffed, alphabetized cabinet.
A crucial step in going digital at your law firm means reducing the generation of new paper documents whenever possible. Implementing new digital processes doesn't mean you have to change the way everything is done. Start simple and think about what's the most cost-effective option.
Choose digital e-signatures in lieu of wet ink.
Share documents with outside parties electronically and securely instead of mailing physical copies.
Scan incoming paper documents (e.g. the daily physical mail) to make your firm more agile, organized, and efficient.
As your firm and clients adapt to paperless workflows, you'll generate less paper over time and reap the cost savings of paper, ink, and trips to Office Depot.
2. Make Digital Documents Accessible
Just like filing cabinets and other ways to organize paper documents, law firms need a digital method for managing files, making them accessible, and keeping them secure.
Digital document management can range from a networked folder system — your "Z" Drive on your local server or a stand alone cloud-based storage service (like Dropbox or OneDrive) — to an all-in-one practice management solution like MerusCase.
No matter which system you choose, the files should be:
easy to find
include searchable text options via Optical Character Recognition (OCR)
using an agreed-upon, firm-wide naming convention to get the most time-saving benefits from going paperless.
3. Change Your Mindset
Remember: going paperless won't happen overnight. Get started with eliminating the paper processes that are difficult or impossible during the pandemic. Start small by changing the way you request signatures, share files, and review documents. Then digitize or discard existing documents.
Going Paperless Doesn't Mean Absolutely Zero Paper
Remember that going paperless doesn't mean eliminating every piece of paper in your office. But it does mean that adapting to today's new digital environment (and potentially the new norm) is crucial to remain competitive against other law firms.
The most important thing is to change your mindset, trust your new processes, and become a truly digital law firm to better engage with your clients. After adjusting to digital workflows, your organization could operate with more agility than ever before.
If your law firm is struggling with its paper processes amidst the Coronavirus pandemic, consider getting started by downloading our How to Go Paperless Digital White Paper.