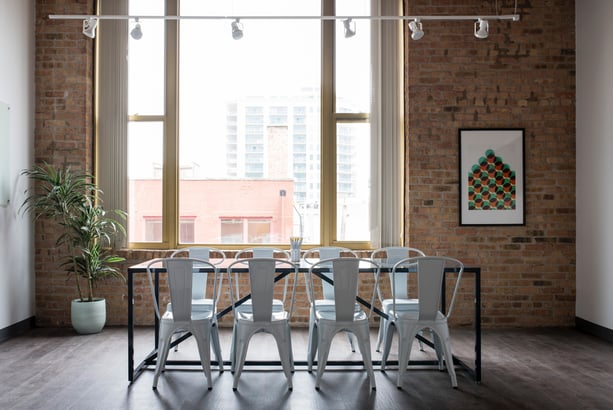 Whether you've been practicing law for 20 years, or you just graduated from law school and want to go off on your own, there are proactive steps you can take to set yourself up for success. Since I once had my own firm, and began by taking a comprehensive course about getting set up, I can offer some practical advice on how to start a law firm successfully.
Step 1: Law Firm Business Plan
I know business plans are boring. However, writing one will help you think of everything you need to do to get your business off the ground successfully. Having a law firm business plan in writing will force you to remember to open a bank account, to set up a trust account, and to create various templates like a civil case cover sheet template in your law practice management software. All these minor steps don't have to be outlined in your business plan, but the general outline of how your business will operate will make you think about them.
Luckily, you don't need a 20 page business plan - a single-page outline will suffice. You could even use this blog post to get you started! However, I suggest a simple Google search to get you the template you need, and perhaps search for a "short law firm business plan" to make sure you get a short version to work with. That way, you can complete it quickly and have a plan of attack. You can always add more to it as you go.
Step 2: Your Law Firm Brand
Although branding strategies vary slightly based on the area of law you are practicing, there is no rule that says you absolutely have to have your name as your business name. Most people are proud to show their name, so if that's your goal, go for it. This is especially a good strategy if you built a strong reputation in the legal industry and want to let everyone know you are on your own now so that they can come to you directly for advice.
If, however, you are considering alternative firm names, I would think about who your target clients are, what business they're in, and planning accordingly. If you are going to work with startups, something more modern, trendy, short, and memorable may be the best option. Think of your firm as a startup, and use business name generators to come up with various names and ideas.
Once you choose your firm name, make sure you test it out in various formats. First, conduct a Google search to verify that no one else has that name. Then search for it on your Secretary of State business searches. Remember that just because it looks good on black and white paper, doesn't mean it will look good as a domain name for your web site, on your business card, or on your letterhead.
Also, think about whether you want your business name to be your surname, your full name, or maybe your initials. What about the font? How will it look as a logo? If your design skills are limited, consider hiring a legal designer like Alexandra Devendra who hosted our "Building your Brand" webinar and showed us how design can make a big impact on your clients and your brand.
Step 3: Location, location, location
Before you file any paperwork to get your firm set up, you need a business address. While you don't really need an office to practice law these days, having a mailing address is still required. You can use your local UPS branch as your mailing address, and they will even make it look like a real office address by giving you a "suite" number for your mailbox.
A better alternative may be a co-working space - so that if you do need to meet a client, you can have your meetings and your mailbox in the same place. WeWork is a great option, and they offer various packages that are both practical and affordable. Not to mention, their work spaces look amazing! Their aesthetics will provide another way to impress your clients and make them feel comfortable trusting your services.
Step 4: Business Registrations & Taxes
Now that you have your brand all set up, make sure your business is registered. If you're forming a partnership or LLC, make sure you speak to an accountant about your tax structure, and that you file the correct paperwork for state and local registrations.
If you don't want to do the work yourself, feel free to use services like LegalZoom or Rocketlawyer to file the correct paperwork, and since you already have your lawyering skills in hand, you can make sure it's all done correctly. Otherwise, you can always find a lawyer friend who can help you with the filing.
Step 5: Law Firm Hardware
Luckily, the most you'll need to practice law these days is a laptop and a printer. I would opt for something that's efficient and not too bulky. You certainly don't need a fancy all-in-one fax machine, scanner, and printer; although it sounds like a practical purchase, your smartphone can be both a scanner and a fax machine. Just check out our 10+ Apps for Lawyers list for some suggestions on apps you can use to do more with your phone.
While I am a fan of MacBooks myself, if you're a PC fan... I won't judge. Either way, make sure you research the battery life and warranties, and that you have great virus protection installed. You want to protect your personal data and your clients', so security is of utmost importance.
Lastly, I would focus on less "entertaining" options and find a laptop that has the basics that you'll need to practice law. A great video studio or photo editing software is not really essential (especially since there are so many free online alternatives), so find something that has Microsoft installed, and be practical about your purchase.
Step 6: Law Practice Management System
I strongly suggest that you invest in a law practice management system, and of course I recommend that you opt for MerusCase. Regardless of your choice of software, you should definitely find a cloud-based solution so you can access your documents from any device and at any time. This will also ensure that you can recover any lost files, and that your work is always backed up.
There are also several security benefits with a cloud-based solution. If you're going to use a laptop instead of a desktop (as I recommended), forgetting your laptop at a coffee shop is a nightmare scenario. You'll have an easier time protecting and recovering those files if they are in the cloud rather than saved locally on your device. This greatly reduces your risk of breaching your clients' confidentiality. So make sure you have a cloud-based solution, where you can store your case files, documents, court forms, emails, calendar, and client information all in one place and with unlimited access. Even if you don't have your laptop with you, you'll be able to access your case files from your phone if your clients call you in the off-hours.
Finally, the most important reason to have a law practice management system is so that you can track your income and billing. A law firm is a business, and operating it like one will make you more successful. A practice management solution makes it so much easier to invoice your clients because it automates the process. I am somewhat ashamed to admit that in 2010, when I had my own practice, I created a template in Excel that calculated all my clients' bills, and I would then save it as a PDF to email it to them. This wasted soooo much time! Now, using a law practice management system, it's a few clicks and you're done. The invoice is created, and you email it from your system. Easy peasy.
Step 7: Law Firm Phone Number
I was a big proponent of Google Voice when I had my own practice. It helped me separate my personal from my private number, and I was able to answer both calls on one phone. Because there are some minor security risks associated with Google Voice's lack of end-to-end encryption, I highly suggest getting a phone that has your business number as the primary number, and using Google Voice for your private line.
I also suggest setting your work number to "Do Not Disturb" after 5pm every day to maintain your sanity. Being on your own is tough, so having a healthy work-life balance is key. In the beginning, you'll want to take every single call and make sure your clients are OK - but taking care of your clients requires taking care of yourself too. For more tips and tricks on maintaining a work-life balance, check out our 9 Ways to Stay Healthy Even When You're Super Busy post.
Step 8: Marketing for Lawyers
So you've got your name and location, your business is registered, and you've got all the supplies you need. Now you just need clients, right? Well, as I said earlier, if you've already built a reputation for yourself and you're a well-known attorney, you should be set. But getting to this point can be difficult, and maintaining your fame in a new venue can be even harder - so it's important to continue investing in marketing efforts.
Even if you're fresh out of law school, brand new to your practice area, or finally making the leap of independence to start your own firm, you can definitely find clients quickly if you play your cards right. The key is to have an online presence. The American Bar Association also has some great suggestions, but as Bill Gates once said: "If you're not online, your business doesn't exist."
The key is to join social media platforms that your clients use, and use them frequently. If you are strapped for time, try some of the social media bulk publishing tools like Hootsuite or Buffer. If your clients are on Twitter, set up an account and start tweeting information that's relevant to your clients - combined with your own personal flair. Some of my favorite lawyers to follow are those who don't talk about the law itself, but instead discuss their lives and put a fun spin on any legal news. Don't be scared to show your personality!
You should definitely have a LinkedIn and a Facebook page, and possibly Twitter if you find that your clients are on there as well. Most importantly, you must have a website. Your clients need to know how to contact you, what areas of law you practice, and your background. They also need to know what sets you apart from your competition, whether it's your quality of service or your brand identity. Check out our Rockstar clients' website for inspiration.
If you need to build a great website quickly, use one of these platforms to build it writing a single line of code: Wix, Weebly, or Squarespace. The best part is, these platforms will configure your site so it's mobile-friendly as well, which is helpful since a majority of the population is going mobile.
If you need more advice on building your own site, check out our Making Mobile-Friendly Websites That will Get you Noticed blog post, or for more law firm marketing ideas, download our comprehensive Law Firm Marketing Guide.
Step 9: Networking for Lawyers
Networking does not necessarily entail leaving your office. As I mentioned above, you should have a LinkedIn profile so that your clients and your legal network can find you easily. Having good relations with your opposing counsel can only benefit you and your client in the long run, so start adding them as connections to see how they're managing their business and what they're posting on LinkedIn to attract new clients. If they are successful, borrow their model of success and make it your own.
You can also find people to meet online through useful subscriptions like Attorney at Work, which shows various influencers who write about managing your own practice. Lawyerist is equally relevant and useful. I not only write for Attorney at Work, but I have met several of the other writers for both publications in person and have learned a lot from them. You can do the same and expand your network.
While online networking is a lot easier, in-person networking is much more beneficial. Make sure you attend Meetups and look up events on Eventbrite to find networking opportunities that can help you improve your practice or benefit your clients. You can also meet new friends and influencers, and grow your network and potential pool of clients. If you find events that potential clients attend as well - even better! For more tips on networking for lawyers, check out our 5 Ways to Network in the Legal Profession blog post.
If you follow the 9 simple steps outlined above, you should be good to go and have a successful new law firm.