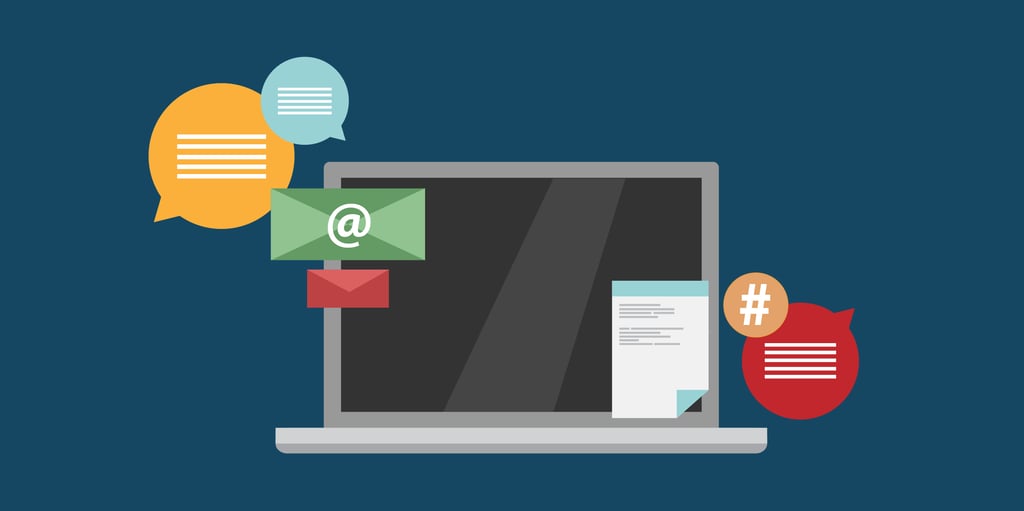 We've all had that dream of "the future" - the one in which the world looks like a 3D animation of The Jetsons, and everyone teleports to work while their robot housekeeper shines their kitchen floors.
Clearly, that future isn't here yet. But while you wait, here are some pretty awesome things you can use technology for right now!
1. To automate, multitask, and save time
Here's a little secret: I didn't just hammer out this blog post and click "publish". In fact, I am writing this post several days before peak readership, when Hubspot will release it to our blog site. Using tech automations, like Hubspot's social media and blog calendars, I track traffic and response rates, then schedule my posts accordingly - so while you're reading my fresh content, I could be vacationing in Bali.... or, more realistically, trapped in a crowded subway train without WiFi.
Chances are, many of your daily tasks and activities can be automated similarly. Using productivity apps like IFTTT, you can program your coffee maker to start a fresh pot as soon as your alarm goes off, or program your phone to track your missed calls on a spreadsheet.
2. To minimize human error
As a marketing specialist working in a legal tech company, trust me when I say I've seen sh*t hit the fan due to the simplest of typos. In such a situation, there is no winning side - whether you're the perpetrator, an associated party, or the recipient of incorrect information, a small mistake can have a big effect on the outcome of your efforts.
Luckily, you live in an era of self-driving cars and 2 million automated mobile apps - essentially, there are a wide array of tech tools you can utilize to minimize the impact of human error in your daily life. If you use a smart LPM software like MerusCase to manage your firm, you can auto-populate court forms with verified information, e-file your court packets so they don't get lost in transit, and log your billable hours precisely as they happen.
3. To access more resources - and browse through them efficiently
On my first day at a previous job, my boss told me sweetly: "Don't ever, ever ask a question unless you've Googled it first." I thought she was threatening me, but I later realized that she was helping; in many industries, people will treat you like a moron if you bother them for information that's only a few keystrokes away.
Indeed, web developers and contributers have gifted us with a treasure trove of informational resources - as well as the tools to navigate efficiently. Find a few info streams that cater to your needs and interests, and experiment with various platforms until you build a system that works for you.
For example, I browse Twitter for a general overview of news and political commentary; I follow Disrupt.Legal, Above the Law, and other legal blogs for industry updates; and I use InsideHoops and Reddit to argue with strangers about pro basketball.
4. To keep up with an ever-changing industry
In some ways, this ties in with accessing more resources; tech platforms like blogs and legal news sites make it easier to stay in the loop as court rulings, broad regulations, and industry conditions change. But it's important to realize that tech is not only a path to legal information; it's also a factor in policymaking, discovery, and competition between firms.
From the rise of legal DIY (Do It Yourself) websites to clients using Pokemon Go as a defense claim, there is a high likelihood that technology will affect your cases directly and in a variety of ways. Your financial success is impacted as well -- while you stumble your way through manual data entry and slow server-based storage, your competitors using MerusCase and other productivity-boosting apps are soaring ahead.
5. To sell your practice to prospective clients
When it comes to legal marketing, technology is the best weapon in your arsenal. Nobody looks for lawyers in the Yellow Pages anymore; they use referrals and search engines, both of which should direct them to a comprehensive list of your services, accomplishments, and bragging points - otherwise known as your website. As I mentioned above, you can use analytics tools like Hubspot to measure activity on your page and track your growth.
If you're not happy with the findings - or, if you simply want to give your practice an extra push - the easiest and best way to drive traffic to your website is through blogging. Blogging maximizes your visibility in search engines, boosts your market presence, and builds your reputation as a pundit in your field.
If you don't believe me, don't take my word for it - listen to Mary Redzic, lawyer and founder of one of my favorite law blogs: DISRUPT.LEGAL. We at MerusCase are thrilled to have Mary on board with us for Legal Blogging 101, a free webinar which will highlight the benefits and logistics associated with starting a law blog. Check out these 3 reasons you need to attend, and register for our live stream on Monday, August 15th, at 9am PST.