Thursday, September 21, 2017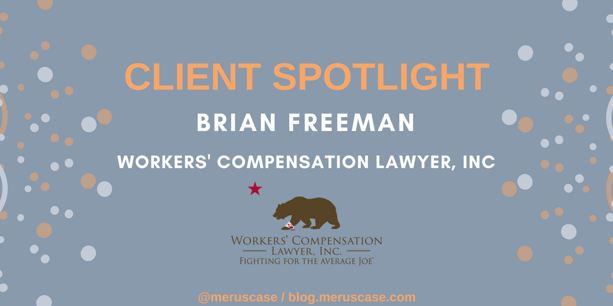 Brian Freeman knows what it's like to scale up his practice - that's what he's been doing for the past 4 years using MerusCase. MerusCase has helped Brian simplify his existing procedures, manage his employees, and greatly increase his caseload, year after year.
This MerusCase Client Spotlight will focus on Brian's firm, Workers' Compensation Lawyer, Inc, and how Brian has used MerusCase to elevate his practice.
I sat down with Brian for a conversation about his success with MerusCase.
Getting Started
Brian started his own Workers' Compensation practice in 2013, dedicated to fighting for the 'Average Joe'. He had used a few different practice management solutions before MerusCase, but found those options lacking.
Brian was first interested in MerusCase for the JETfiling integration with the California courts, and soon noticed the other features that could greatly benefit his practice.
Growing the Firm
Brian's firm has seen substantial growth in recent years, so we discussed the techniques he has used to foster that development.
Q: You mentioned that you've had a lot of case growth. How much would you say your case load has grown since you started using MerusCase?
A: Every year it has more than doubled since I've been using MerusCase.
Another thing is that I've hired more employees, and they all work from home. I give them their own laptops and their own MerusCase accounts. I'm able to see their productivity - I love the dashboard because I can see who is getting things done. I also like the itemized list of firm activities so I can make sure that no one has taken a 2-hour nap! This all really helped me as an owner and manager to know what my staff is doing.
Firm Management and Productivity
Brian and I discussed the ways that his firm has evolved since he started using MerusCase.
Q: Is there a part of your practice where the workflow itself has changed?
A: Yes, due to MerusCase and how fast the firm has grown, I had to evolve my intake process with the demand. When I first started, I used to meet with new clients, explain the paperwork - the physical paper, have them sit there and sign the paperwork, and then scan it into the system. My average intake was about 1 or 2 hours. I knew that wasn't sustainable, so I switched to an electronic sign-up system. That reduced the intake time down to about 15 minutes, and I could drop the electronically-signed documents into MerusCase and do a quick filing.
One workflow thing that is huge: we get tons of mail in workers' comp, and I hired an employee specifically for that reason. I was sick of scanning and processing the mail. Now, she uploads the mail for the day as a Batch Scan into MerusCase. That's super convenient - not only is all that mail not being stored in a giant storage room, but it's so easy to access now. Another employee reviews everything that comes in and sends me only what I need to see. It's really helped my paperless goals. MerusCase made it really easy to get there.
Making the Upgrade
Brian has always been very vocal about his support of MerusCase. Many of Brian's associates have taken his recommendation and are now happy MerusCase clients. I asked Brian about the big incentives to start using MerusCase.
Q: What is your "pitch" to an attorney considering MerusCase? Is there anything in particular that highlights why they should make the switch?
A: I would tell them to make the switch because it will make life so much easier, and your business so much more cost-effective. There is a lot of waste in these "paper-full" offices. You're hiring clerks to paper-file things, paying to store the files in a physical space. Lugging a big physical file through court is a nightmare, especially going up multiple flights of stairs. All I carry is a 12-inch MacBook - it weighs about one pound. That's it. It's so much better and cheaper than doing things the 'old-fashioned way'.
Final Thoughts
Q: Thanks for your time, Brian. Anything else you'd like to say?
A: Yes, one other main reason why someone should switch to a practice management software like MerusCase: having everything centralized is very important for organization. You don't want to have various systems tied together; it's too much of a technical headache. You want everything in one place. So I love that - all of our contacts in one place, tasks in one place. It does everything that you need to do, all under one hood.
(Wow, Brian could easily write business slogans as a side job.)
---
Thanks to Brian Freeman of Workers' Compensation Lawyer, Inc for his help with this post.
Interested in having your firm in a Client Spotlight?

If this post was interesting to you, be sure to subscribe to the MerusCase blog and follow us on Twitter, Facebook, and LinkedIn.
Monday, December 19, 2016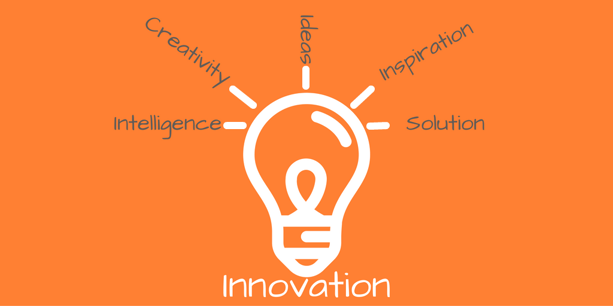 Law schools teach lawyers how to come up with creative arguments when representing their clients. However, they rarely teach lawyers how to collaborate and innovate to improve the practice of law, or to improve their work environment. Innovation can help foster new ideas on how to improve work-life balance, how to work less and bill more, how to market the law firm and how to improve client satisfaction. New ideas benefit both lawyers and their clients alike.
Here are 5 ways that lawyers and law firms can increase innovation in law firms:
Set Firm-Wide Goals & Share Them With Everyone
If you share your overall firm goals with the entire team, including staff, everyone becomes a part of the equation and can see the impact their work makes to the overall goal. They can see the value of their contribution and will be more inclined to innovate and contribute to its overall success.
According to Dr. Bastiaan Heemsbergen, Organizational Psychologist at Queens University in Canada, transparency is the recipe for innovation. If you have a transparent company, the ideas and innovation will flow.
Have 15-Minute Stand-Up Meetings Every Morning
The goal of a stand-up meeting is to discuss any pressing issues while standing for 15 minutes (or less). You can have it once a day or once a week, but either way it's a good way to address any immediate concerns, share insights and ideas and improve collaboration.
Also, because they are only 15 minutes long, it forces the team to focus on important issues and share quickly, and also avoids the loss of billable hours while improving collaboration and innovation.
At standup meetings, each person answers the following three questions:
What did I accomplish yesterday?
What will I do today?
What obstacles are impeding my progress?
They create an open environment where teams work together to solve problems, and foster innovative solutions to roadblocks.
Set Up an Ideas Box
If 15 minute meetings would be too difficult to implement (maybe everyone starts their day at a different time, or it's just not feasible since some people work from home, etc), then an ideas box is an alternative.
You can have a digital ideas box in your cloud or a physical one at the office where everyone can submit ideas and they are shared at a company meeting for everyone to vote on which ones would get implemented. This way any idea can be shared anonymously and people will feel free to share any idea, no matter how radical.
However, you should make sure that: (1) everyone is aware of the ideas box, (2) everyone understands how it works, (3) you follow up on the ideas and implement them strategically, and (4) you encourage everyone to participate. That way you will not fall into one of many traps of failed idea boxes, and will instead ensure its success.
Teach New Problem-Solving Techniques
While meeting your billable hours is important, training your team members on alternative methods of solving problems can have a positive impact and improve innovation. If you pursue a problem from a different angle, you'll come up with solutions that the one problem-solving method you consistently deploy would not reveal.
For instance, using design thinking instead of the IRAC method would force lawyers to focus on the "client" rather than the "Issue" and attack the problem from that perspective, by empathizing with their client and understanding their situation.
Maybe there are less litigious ways to solve the problem, and finding them may not happen if you're only focusing on the issue and finding the law that applies to it. When you're the only firm coming up with a solution that no one else thought of, you'll distinguish yourself from the competition and win the long game.
Design thinking can help foster new ideas on improving your firm culture, innovating new billing methods and alternatives to the billable hour that would be more profitable and favorable to your clients, and coming up with marketing ideas for your firm; all of which would benefit your firm and clients, and set you apart.
Reward Creativity
Every time someone comes up with a great idea at your firm, make sure you implement one of them. If someone has a great idea, make sure everyone knows that it's being implemented, give the ideator credit, and find a way to celebrate it.
There are creative ways to reward creativity. The awards can be personalized and tailored to the innovator to reward the creativity, and can acknowledge the individual or team contributors. You can award points for each innovative idea, buy individualized gifts, or create a culture that acknoweldges innovation and collaboration.
Whether it's as low key as emailing everyone about it, or something as big as having a party, the innovation should be acknowledged publicly so that other people are encouraged to participate and ideate as well.